Cultural Finca Son Baulo Mallorca – Events
For over 10 years two to three cultural, refined events such as concerts, theatre, ballet or flamenco have been given every month, in an exceptional indoor or open-air ambience. Thus, from the beginning, we have enjoyed the image of being a quality-conscious "culture institution". Not for nothing is Son Bauló the cultural finca of Majorca. Furthermore, we organise performances of Majorcan folk dance groups in their wonderful, colourful costumes. Artists to touch, big names in front of a small audience. That is our maxim.
Changes are possible at any time.
You can change the view when you switch from "Agenda" to "Month".
Sep
11
Sun
2022
Klassische Homöopathie

@ Kulturfinca Son Bauló, Lloret de Vistalegre
Sep 11 @ 16:00 – 18:30
Sonntag 11. September 2022 – 16:00h Klassische Homöopathie

Vortrag von Maren Stammer, Erfahrung, Aufklärung, Transparenz
wo: Kulturfinca Son Bauló. 
Dr. Samuel Hahnemann, Arzt und Apotheker, stieß 1870 auf ein Naturgesetz:- similia similibus curentur – Ähnliches werde mit Ähnlichem geheilt. Wie steht es heute in unserer konfusen "digitalen" Welt mit dieser großartigen Erkenntnis? Fragen nach dem Vortrag finden eine Antwort!
Auskunft und Anmeldung bitte: info@maren-stammer.com. Tel. +34 623 226 776
16:00h Vortrag Gebühr € 8,- | 18:30h 3-Gänge-Wok-Menü € 24,- 
Sep
28
Wed
2022
Viejo Agustin Rivas – THE SHAMAN

@ Kulturfinca Son Bauló, Lloret de Vistalegre
Sep 28 @ 13:00 – Sep 29 @ 17:00
Arrangiert und moderiert von Maren Stammer !!! VIEJO kommt !!! persönlich !!!
VIEJO AGUSTIN RIVAS *1961 "THE SHAMAN"

28.09.2022 (13h) – 29.09.2022 (17h) Zeremonie
Preis pro Person 280,00€ für Zeremonie I. ( 2 Tage, 1 Übernachtung (Übernachtungskosten kommen dazu)
Die Zeremonie findet auf der Kulturfinca Son Bauló in spanischer Sprache mit deutscher Übersetzung statt.
Sofort anmelden, maximale Teilnehmerzahl: 22 Personen. Achtung: Anmeldeschluss verlängert!
Formular: Anmeldung und Ablaufplan 
Zimmerbuchung direkt über Son Bauló +34 971 524 206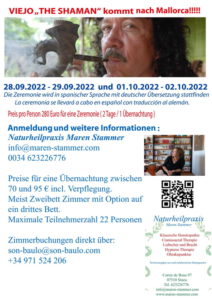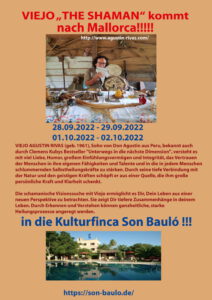 Der Sohn von Don Agustin aus Peru, bekannt auch durch Clemens Kubys Bestseller "Unterwegs in die nächste Dimension", vorgestellt auf Son Bauló.  
Die schamanische Visionssuche mit Viejo ermöglicht es Dir, Dein Leben aus einer neuen Perspektive zu betrachten. Sie zeigt Dir tiefere Zusammenhänge in deinem Leben.
Durch Erkennen und Verstehen können ganzheitliche, starke Heilungsprozesse angeregt werden. www.agustin-rivas.com

Infos direkt bei Maren Stammer, Naturheilpraxis in Sineu (Mallorca).
Son Bauló seminars Interested in our seminars? 
Please register for the events so that we can implement the Corona rules. Thank you very much. 
It greets you with great pleasure on our reunion
Your Will Kauffmann